Learn what brightmiles are and how you how to earn them whilst using Brightmile.
What are brightmiles and how can I earn them?
You earn one brightmile for each mile (1.6 km) driven without triggering a Risk Event, Distraction Event, or Eco Event, and provided that you were not Speeding or driving at risk of Fatigue.
In other words, we reward you for each 'safe' mile (1.6 km) that you drive.
You will see indicators for how you performed on each day and trip to help you see how well you are earning.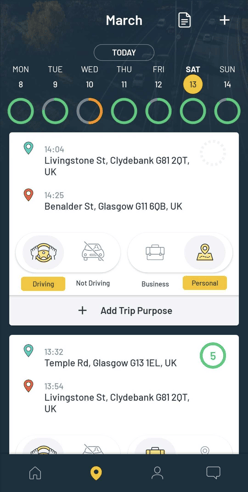 Remember you only need to break the speed limit for a part of a mile ( (1.6km) or trigger a single event to lose the brightmile. Triggering multiple events in a mile will not lose you additional miles so you might not see your speeding % or number of events matching exactly the number of Brightmiles you missed on a trip.
How can I know how many brightmiles I have?
Your total brightmiles are counted at the top of the 'Overview' screen of the 'Home' page.

What are Trophies?
Trophies can be earned for landmarks relating to your usage of the Brightmile Driver App (e.g. completing your Vehicle profile in the 'Vehicle' section and your Driver profile in the 'Driver Profile' section) and special achievements relating to the Five Pillars (e.g. going a whole day with all zero Five Pillar scores).
The Trophies that you have earned will be displayed in colour in the Trophy Cabinet.
The Trophies that you have not yet earned will be greyed out in the Trophy Cabinet.
Three Trophies that you are close to completing will be displayed above the Trophy Cabinet.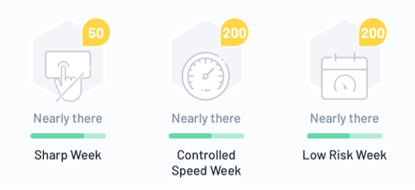 Trophies will earn you bonus brightmiles as depicted in the top right hand corner of each Trophy icon.

Trophies are categorised into various collections. To filter by collection tap on the relevant collection name.