Learn how to use Brightmile's built-in Mileage Manager to make claiming your mileage expenses easier and more accurate
Brightmile Mileage Manager can operate in 3 ways:
1) Manual reports created by individual drivers from within the app for your own records
2) Manual reports created by individual drivers from within the app and then submitted to your company claims process
3) Automated report creation for subscribed business where drivers monthly reports are automatically collated and sent to defined company contact(s)
In order to use the Brightmile Mileage Manager, please ensure that you follow the different steps highlighted below.
Setting up the mileage manager settings before use
Complete your vehicle profile and mileage expenses settings
Under the driver profile which you can find by tapping on this icon

in the bottom navigation of the app, you have access to the vehicle details.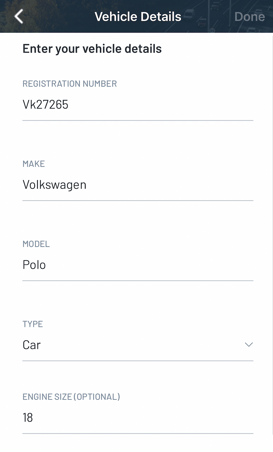 You need to ensure that the "Registration Number" in the 'Vehicle' section of the app is complete before using the mileage manager feature.
On top of this, below the vehicle details, you need to complete the mileage expense assistance settings.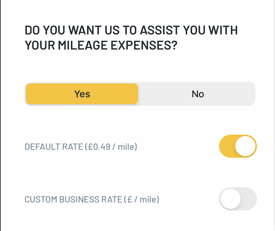 You can use the default rate for your expenses or set up a custom rate based on your company policy.
The currency should be set by default. If you see any issue, please contact your fleet manager or you can contact us at support@brightmile.io and we will be happy to help.
Change the Measurement Unit in the Brightmile Driver app Settings screen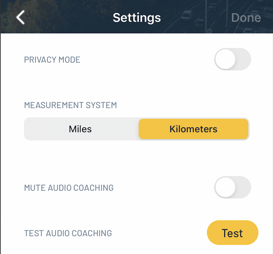 Under the settings option in the driver profile, you can access and change at anytime the measurement system unit from Miles to Kilometers.
This measurement unit will be used in the mileage manager and can be changed at any time
How to use the Mileage Manager to create your own report now that the set up is done?
To use the Mileage Manager press here in the Trips section of the app.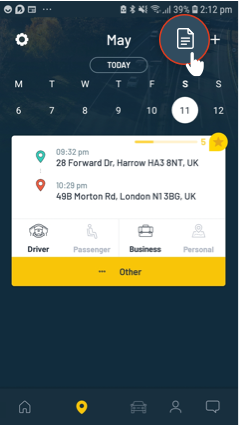 The Brightmile Mileage Manager allows you to create and export a spreadsheet report of your Trips including mileage, Trip purpose, and claim value.
To generate a report select the relevant dates, choose whether to include Personal trips using the slider, and then press "Download Report".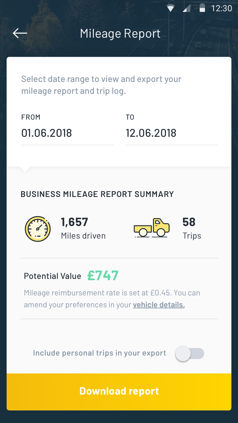 You will then be able to choose how you would like to export the report (e.g. via email, locally etc).
Remember if for any reason Brightmile misses a full or partial trip you can add/edit trips
These trips will be clearly marked in your mileage report as manual/edited for your records.
If you are regularly missing trips please ensure that you have referred to our dedicated help section
Automated Monthly Mileage Reports
If your business has subscribed to automated reports the Brightmile system will automatically generate monthly mileage reports on behalf of the driver. The process for this is described below.
At the end of the month you will receive an email from Brightmile reminding you to make sure you are ready for the report to be generated. This will indicate the date the report will be generated giving you a few days to make sure that your trips are correctly classified and detailed. Things to check include:

Did you do any business trips outside of your working hours settings that need to be reclassified?
Did you do any personal or non driving trips during working hours that need to be reclassified?
Did you miss any trips you need to add or edit? (perhaps due to your phone being off or left at home for example)
Have you added trip purpose and notes in line with your company policies.

If you want you can generate your own copy of the report to check or to keep as reference using the manual report tool detailed above.
The company report will automatically generate on the indicated date collating together mileage reports from all drivers and delivering the combined report to the appropriate company contact(s)

Note that changes made in the app after this date will not be reflected in the company mileage report. Any queries please contact your claims and payroll team and if needed/agreed with your own claims team you can create a manual report to supply updates to them yourself.
The company will define and manage its own reimbursement rates so the settings in the app are only for your reference when generating your own personal copy of the report.
Most of our drivers find it easier to periodically check their trips during each week rather than waiting until the end of the month. The app makes it easy to browse and manage your trips as you go saving you time over trying to review at the end of the month.