Learn what BrightCoins are and how you how to earn them whilst using Brightmile.
BrightCoins are your reward currency that can be used to enter raffles and donate to charity.
BrightCoins are earned by driving consistently safe and below your company's targets, or by winning trophies.
Each week, you can earn a maximum of five BrightCoins - one for each Brightmile Pillar (risk, speeding, distraction, fatigue, and eco).
The week is calculated from Monday - Sunday, and at the end of the week we calculate your pillar averages. If your average is on or below target for that pillar you will be awarded one BrightCoin. If your average is above target you will not receive a coin for that week.
You will not be eligible for any BrightCoins if you do not drive a minimum of [10] business kilometres in the relevant calendar week.

How do I know how many coins I have?
Your total BrightCoins are counted at the top of the 'Overview' screen of the 'Home' page, as well as in the BrightRewards scorecard tab.

What are Trophies?
Trophies can be earned for landmarks relating to your usage of the Brightmile Driver App (e.g. completing your Vehicle profile in the 'Vehicle' section and your Driver profile in the 'Driver Profile' section) and special achievements relating to the Five Pillars (e.g. going a whole day with all zero Five Pillar scores).
You can access your Trophy Cabinet through the Home Dashboard or by clicking the

icon on the bottom menu.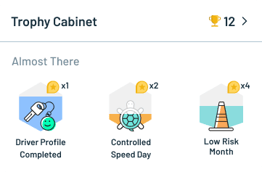 In the Trophy Cabinet you will see:
The Trophies that you have earned will be displayed in colour in the Trophy Cabinet.
The Trophies that you have not yet earned will be greyed out in the Trophy Cabinet.
Three Trophies that you are close to completing will be displayed in the 'Almost there' section of the Trophy Cabinet.

Trophies will earn you bonus BrightCoins as depicted in the top right hand corner of each Trophy icon.