Data privacy and security are one of our core principles at Brightmile and part of that is ensuring it is really you signing up.
Email Verification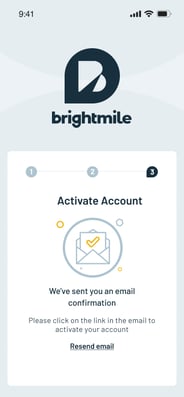 Brightmile will send you a verification email if you sign up with a valid Activation Code and company email address but your email has not already been confirmed by your manager. We do this to ensure the security of your data.
Please check your email inbox for the email you have signed up with (either on your phone or elsewhere) and look for the email from Brightmile with the subject "Verify your email for Brightmile".
If the email hasn't arrived in 1-2 minutes:
Please first check your Updates or Spam folders

Please check that the email address shown on the verification screen is correct. Make sure there are no typos. If the email is incorrect please sign up again with the correct email.

If you still cannot see the verification email you can resend the email by pressing the "Resend Email" link in the app
Once received, click on the link in the email which will open a web page. Follow the instructions on the web page to complete your account verification.
You can then return to the Brightmile App and select the next button to finish the registration process.
Each verification email is only valid for 1 hour. If you are not able to verify your email in time then please simply open the Brightmile app and resend the email by pressing the "Resend Email" link.